For snart 10 år siden så "Oldengaard.dk – mentaltræning der virker" dagens lys. I den kommende tid kommer nogle nedslag for at markere mine 10 år.
Tilbageblik1
"ONDT I RØVEN"
Virksomheden blev stiftet d. 1. oktober 2008. En lidt tilfældig opstart. Opstarten skyldtes kun, at jeg havde tjent 50.000 kr. og så skal "man" momsregistreres. Med et slag, oplevede jeg, at blive "direktør" i eget firma. "Fedt", tænkte jeg, "Nu kører det!".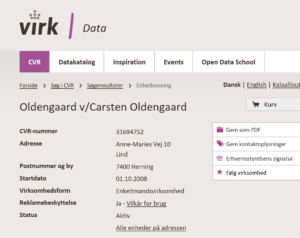 Sidenhen har det dog vist sig, at der er mange ting forbundet med at drive en virksomhed.
Men i starten tænkte jeg: "Jeg er jo god til at lave mentaltræningsforløb, så der må være nogle udøvere, trænere og klubber, der bare venter på at tage kontakt til mig. Så det er bare ud over stepperne".
Så jeg tog kontakt til Herning erhvervsråd for sparring og hjælp. Jeg havde lavet en forretningsplan, et budget etc., som man nu bør gøre og præsenterede det for konsulenten. Han troede ikke rigtig på virksomheden og jeg gik derfra med "Der er rigtig mange coaches og så det er et svært område". Lidt misforstået og slukøret gik jeg fra mødet. "Hvad nu?", tænkte jeg.
Jeg opsøgte nogle andre iværksættere for at blive inspireret.

En af dem var Ulrik Jespersen. Ulrik havde lige opstarten en virksomhed i 2007, han kaldte Quick Care og som ville hjælpe sygedagpengemodtagere tættere på arbejdsmarkedet igen. Jeg havde haft nogle små afløsertjanser for ham i virksomheden, når han skulle noget andet. (Parentes: Quick Care har i dag 270 ansatte og samarbejder med over halvdelen af landets kommuner). Ulrik sagde noget til mig, som jeg har fulgt lige siden: "Der er kun en vej til (flere) kunder i 'Butikken'. Det er at rejse sig fra sin stol og gå ud af døren og opsøge dem. Der kommer ingen nye kunder, hvis man bliver siddende på sin stol og får ondt i røven og af sig selv". Og med den pointe lagde jeg forretningsplaner etc. væk og gik jeg så i gang med at jagte udøvere, træner og klubber…
Tilbageblik2
"GODE PROCESSER BANER VEJEN FOR GODE RESULTATER"
Min første "store" opgave fik jeg i 2008 og blev sammen med den dengang unge og talentfulde håndboldtræner Frans Hammer (I dag bla. medlem af DIF's bestyrelse og den Olympiske komite) og Frans' U18-hold i Viborg. Holdet bestod af en flok unge drenge ca. 16-18 stykker fra Viborg College, der som udgangspunkt elskede håndbold og bare gerne ville træne. De var ikke særlige på nogen måder, måske hørte de niveaumæssigt til i den lave ende – og de havde absolut ikke vundet noget som helst.
Aftalen om at blive tilknyttet som mentaltræner kom i stand efter en meget omfangsrig telefonsamtale, som begyndte lidt tilfældig, men telefonsamtalen endte med at Frans og jeg faldt i så godt i hak. Og inden jeg havde set mig om, var vi påbegyndte et samarbejde. Et Samarbejde der bar meget præg af lysten til at udvikle gode processer. Resultatet var skubbet i anden række, selvfølgelig ikke for drengene, men for os som cheftræner og mentaltræner var vi nysgerrige, legelysten og eksperimenterende på procesarbejde.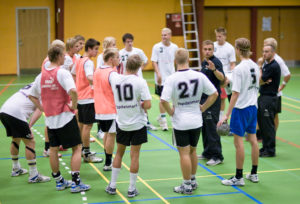 Det var blandt andet her jeg udviklede mit første udkast til en metode for udarbejdelse af hold-målsætninger og psykologisk kontrakt ml. spillerne – og spillerne og trænerne. En metode "Samarbejdet bord" som er meget involverende, dog ikke uden konflikter og svære samtaler. Men til gengæld opfylder "SMARTE"-modellen. Altså en forpligtende målsætning som spillere og trænere i fællesskab arbejde efter i dagligdagen både på og uden for banen.
Frans og jeg fandt hurtigt ud af, at de unge spillere udviklede sig ret godt, når vi var mere optaget af at lykkes i processen end i resultatet. Når vi var optaget af, hvordan spillerne lærer sammen og hver for sig for at tilegne sig et spilsystem i forsvaret og i angrebet, hvordan udvikler spilleren sit hopskud eller sine taklinger, hvordan et tilgangen til at udvikle sig etc..
Jeg husker især en episode med en spiller – Asbjørn. Asbjørn var på ingen måder det man kunne kalde en talentfuld spiller. Han var en stor fysisk stregspiller, men tung i sine bevægelser, langsomt lærende, han lavede for mange dumme fejl, trak et hav af 2-minutters udvisninger osv. Trods det, så havde Asbjørn nok det mest værdifulde en spiller kan og skal have, det var hans vilje til at "ville" spille (godt) håndbold.
En dag trak Frans og jeg ham til side. Vi havde besluttet os for at fortælle ham "sandheden" samt give ham en opmuntring til, hvordan vi mente han kunne udvikle sig yderligere. Jeg husker, at jeg sagde følgende: "Hvis du virkelig ønsker at blive en god håndboldspiller, så er det kun en vej for dig. Det er hårdt arbejde. Du er simpelthen nødt til at gøre tingene flere gange end de andre, da du trænger til at komme i bedre form, er langsomt bevægende, langsom lærende – og så må du bruge dit hoved meget mere (var godt tænkende) – tænke tingen igennem flere gang igen og igen – og være meget mere detaljeorienteret på dine ting i stedet for at bare at buse på med din store fysik og slå hovedet fra."
Jeg husker også Frans og jeg bagefter talte om: "Hvordan mon det blev modtaget?".
Den dag i dag 10 år senere, så spiller Asbjørn faktisk stadigvæk håndbold – og er fast mand på et ligahold.
Jeg mødtes med Asbjørn 5 år efter vores veje skiltes. Der kunne hanstadigvæk fortælle om, hvordan han brugte mine mentale modeller og tiden sammen med Frans i hans håndboldspil og liv.
Frans og jeg lavede en lille opfølgning 5 år efter vores samarbejde, hvor mange af drengene, der stadigvæk var aktive håndboldspillere. Til vores overraskelse og lidt stolthed spillede 12 af drengene stadigvæk håndbold enten i ligaen eller 1. division. "Gad vide, hvad status er nu?"
"Gode processer baner vejen for gode resultater"
Tilbageblik3
"VÆSENTLIGE BESLUTNINGER"
Allerede fra begyndelse af tog jeg nogle ret væsentlige beslutninger på Oldengaard.dk's vegne. Det kan jeg se den dag i dag. Jeg besluttede mig for,

at min virksomhed som udgangspunkt kun skulle tilbyde mentaltræning i sportens verden. Jeg ønskede at arbejde fokuseret inden for en bestemt branche og med sportsudøvere, hold og cheftrænere. Med det valg at lave ydelser inden for sportens verden fulgte også beslutningen om, at jeg måtte arbejde benhårdt for at lykkes især set i forhold til den økonomiske situation Danmark stod i for 10 år siden. For 10 år siden var der finanskrise i Danmark med bankkrak, bankpakker, boligprisboble,
virksomhedskonkurser etc.. Og i kølvandet af Danmarks økonomiske krise var sporten også tvunget til at skære væsentligt ned økonomisk; Staben omkring holdene blev mindre, der blev sparet på spillerbudgetter og sponsorerne trak sig eller gav meget mindre end tidligere, da de havde nok at gøre med at få egen forretning til at køre rundt etc.. Der var altså meget lidt økonomi i sporten. Samtidigt var sporten stadigvæk (og er stadigvæk) ikke kendt for at ansætte mange mentaltrænere eller sportspsykologiske konsulenter som en del af den daglige træning. Mentaltrænere blev stadigvæk mere hyret ind, når der var krise og resultaterne udeblev.
Så min mission var blandt andet at få sporten til at bruge penge og ressourcer på mig som mentaltræner og mentaltræning som den daglige del af træningerne. Således at der blev trænet mentalt på højde med teknisk, fysisk og taktisk træning. Det er vel det, jeg kalder lidt en "Op ad bakke-projekt". Men heldigvis er min stædighed og vilje stor. Fordelene for mig til gengæld, at alle vidste for 10 år siden, at det mentale kunne afgøre kampe og konkurrencer og at det burde bruges meget mere aktivt i dagligdagen være forebyggende og trænes i "fredstid".
De første mentaltræningsforløb, jeg fik, bar da også mere præg af kriseforløb end udviklingsforløb. Den tendens er dog i dag vendt – og lang de fleste mentaltræningsforløb har et afsæt i at udøverne, holdet eller cheftræneren vil udvikle sig mentalt. Naturligvis er der også mentale problemstillinger/dilemmaer, men der er ikke et kriseforløb, hvor man er i en krisetilstand, men mere udviklingsforløb, hvor man ønsker at blive bedre og har mere styr på det mentale område.
Næste væsentlige beslutning, jeg tog, var, at jeg ville være en rigtig god mentaltræner i sportens verden, faktisk den bedste i DK. Det affødte et lidt midtjysk udsagn: "Jeg vil være verdenskendt i Herning".
(Mere om det i næste indblik….)
Tilbageblik4 
"VERDENSKENDT I HERNING"
Alle ved – eller alle fra Herning ved, at Herning er verdens centrum. Vi fra Herning tror i hvert fald på, at vi kan noget og derfor gør vi noget. Vi omtaler det ofte som Hernings DNA. Jeg er opvokset i Hammerum nær Herning og boede en stor del af mit ungdomsliv i Herning. Så var jeg væk fra Herning i en årrække for så som voksen at vende tilbage igen.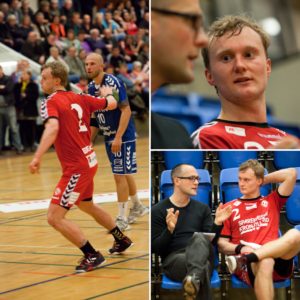 For mig var det ret simpelt, hvis min virksomhed Oldengaard.dk skulle lykkes og jeg skulle lykkes som mentaltræner, så måtte jeg blive verdenskendt i Herning. Så jeg rejste min røv fra sædet på mit kontor og gik ud ad døren for at opsøge alle de mennesker, som jeg kendte bare en lille smule, eller som kendte nogle andre og som havde med sport at gøre. De affødte mange samtaler og besøg og efterhånden kom der flere og flere opgaver.
Jeg blev bla. tilknyttet Herning Elie i 2009. Herning Elite er en organisation som udspringer af et samarbejde mellem Herning Kommune, Team Danmark og klubberne i Herning Kommune. Et samarbejde der varede indtil 2016, som jeg var glad for. Det gav mig muligheden for at undervise og møde de helt unge talentfulde sportsudøvere tidligt i deres karrierer og deres forældre.
I 2010 fik jeg igen gennem mit Herning-netværk en henvendelse fra træneren fra Herreligaholdet i Viborg Håndboldklub (VHK). Kort tid efter var jeg påbegyndt arbejdet med herreligaholdet om at udvikle deres gruppedynamik, så de kunne præstere bedre. Et forløb jeg er ret stolt af, når jeg tænker tilbage. Stolt fordi jeg havde ret dårlige arbejdsforhold. Jeg var stadigvæk noget uerfaren omkring at skabe gode arbejdsforhold for mig selv. Men også stolt fordi holdet, der var i krise da jeg mødte dem og kom ind på et bedre gruppedynamisk spor, præsterede bedre og vandt flere kampe. Undervejs i forløbet oplevede jeg så det, som kendetegner sport og klubber i en nøddeskal. Det går godt, pengene er små og spørgsmålet: "Hvad skærer vi væk for at spare på udgifterne?". Så i midten af foråret 2011 blev jeg skåret væk
….Lige indtil holdet røg i nedrykningsspillet. Så kunne jeg godt bruges igen – og blev tilknyttet igen. Jeg er stolt over, hvor godt holdet og trænerne tog imod mine input igen samt hvor villige de var til at arbejde hårdt. Vi fik vendt atter vendt krisen og begyndte at spille bedre, præstere bedre, vinde kampe – Og VHK herreligaholdet klarede frisag og blev i bedste liga.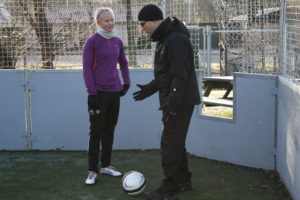 I 2012 henviste i min Herning-netværk mig til en ung ambitiøs fodboldspiller. Hun hed Pernille Harder. Vi mødtes og inden længe havde vi påbegyndt et samarbejde om at udvikle hende på det mentale område. Et samarbejde der stadigvæk kører her efter 6 år. Det har dog været afbrudt af en pause. Som nogle måske er bekendt med så arbejder vi hen imod, at Pernille bliver verdens bedste fodboldspiller. Lige pt. er hun (kun) Europas bedste. #Hardmentalwork
En anden milepæl var et kursus om mentale værktøjer for trænere og bestyrelsesmedlemmer afholdt i 2013 sammen med Idrætsrådet i Herning. En af deltagerne på kurset blev så interesseret i mentaltræning, at vi efterfølgende mødtes for at tale videre. Han havde en god kontakt til den dengang unge og meget talentfulde badmintonspiller ved navn Viktor Axelsen. Det blev startskuddet til et 4-årigt langt samarbejde med Viktor. Et samarbejde der tog ham fra nr. 24 på verdensranglisten til nummer 1. Vi afsluttede samarbejdet 1 mdr. efter han blev verdensmester i 2017. En case jeg også er rigtig stolt af.
Min jagt efter udøvere, hold og trænere, der vil noget sker meget via mit netværk i Herning.
Og efter 10 år har jeg ydmygt konstateret, at mit netværk er grunden til, hvor jeg står i dag. TAK!
Tilbageblik 5
"BOGEN"
– Mentaltræning i sportens verden – 6 konkrete værktøjer til at udvikle din mentale styrke og præstere bedre
Allerede da Oldengaard.dk i 2008 blev stiftet legede jeg med tanken om at udgive nogle temahæfter om praksisnære mentale værktøjer. I mit spæde forsøg på at synliggøre nogle af mine mentale værktøjer fik jeg trykt 2 hæfter i2011, som jeg brugte i forbindelse med mine samtaler og undervisning.
I 2012 havde jeg så meget styr på mine mentale værktøjer og min praksis og jeg havde fået blod på tanden og ville udgive nogle flere temahæfter. Hvert temahæfte skulle omhandle et mentalt værktøj. ialt 5 temahæfter. Temahæfter som også skulle kunne købes via min hjemmeside.
"Hvor svært kunne det være?"
Faktisk ret svært! Især fordi mine ambitioner var høje. Temahæfterne skulle kunne læses, forstås og bruges af sportsudøvere fra 15 år og opefter. Jeg ville have et materiale der var gennemtestet, inden det blev sendt på gaden.
Det viste sig at tage længere tid og mange arbejdstimer, end jeg lidt naivt havde forestillet mig. Udgangspunktet for hvert temahæfte skulle være mine
mentale modeller. Modeller jeg havde arbejdet på i lang tid og som jeg over tid havde forfinet igen og igen. Derudover skulle hvert temahæfter indholde
mentaltræningsopgaver. Opgaver, så udøveren kunne komme i gang med at træne mentalt. Altså temahæfter skulle mere end at inspirere, de skulle kunne igangsætte mental træning.
Hæfterne skulle også være krydret med konkrete eksempler fra min virkelighed – sportens verden.
Jeg allierede mig med nogle udøvere ml. 15 og 17 år, der dyrkede forskellige sport; fodbold, håndbold, svømning, golf, badminton. Jeg mødtes med dem i små grupper, udleverede 1-2 temahæfter. Så bad jeg dem om at læse hæftet igennem på stedet. Herefter kunne udøverne stille opklarende spørgsmål. Så blev de bedt om at gå "hjem" og bruge de mentale værktøjer i hæfterne i deres dagligdag. Så mødtes jeg med dem efterfølgende for at høre om deres erfaringer, refleksion og input. Derefter udlevering af nye hæfter og en runde mere og så fremdeles. Jeg havde også nogle forskellige cheftrænere, der læste hvert temahæfte igennem og gav deres input. Undervejs havde jeg også to psykologer at sparre med samt 2 korrekturlæsere og 1 layouter igang.
Søren Hørdum fra forlaget Hørdum og Engelbrecht stod for at hjælpe med opsætning og trykning. I 2013 ca. 2 år efter tanken om 5 temahæfter om
mentale værktøjer var vi klar til trykning.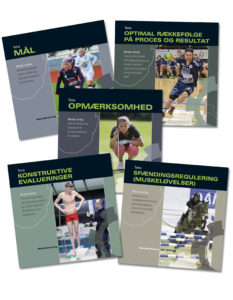 "Men hvor mange temahæfter skulle trykkes?"
Jeg besluttede at få 500 sæt af 5 temahæfter tykt. Det var med lidt bæverende hjerte, at jeg havde den udgift, men det viste sig at temahæfterne var bæredygtigt og i 2015 fik jeg atter trykt nogle temahæfter.
De blev også solgt.
"Hvad skulle jeg nu?" – Jeg havde fået blod på tanden. Jeg ville udgive en bog. Denne gang ønskede jeg dog en gennemgribende revidering og til dels omskrivning, og jeg ønskede at synliggøre et mentalt værktøj mere. Jeg allierede mig igen med personer, der kunne optimere bogen; psykologer,
trænere, udøvere, korrekturlæsere, Klaus Bundgård der kunne gennemskrive bogen i et godt og praksisnært sprog og Bente Lynderup der kunne lave et nyt lækkert layout.
Budgettet blev for stort til at jeg selv kunne bære udgiften. Heldigvis fandt jeg en samarbejdspartner Rene Holst, ejer af Golf Arena Århus. Ham er
jeg evig taknemmelig for, at han kunne se idéen med bogen.
I 2016 kunne jeg sende bogen "Mentaltræning i sportens verden – 6 konkrete
værktøjer til at udvikle din mentale styrke og præstere bedre" til trykning og kort tid efter afholdt jeg en bogreception med over 100 besøgende i
Holing Sportscenter.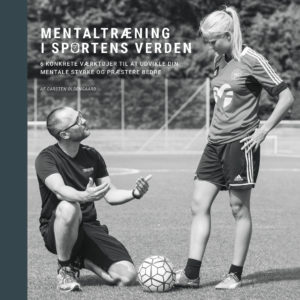 I 2018 udkom 2. udgave af bogen. I skrivende stund er mere en 1.400 bøger ud i det ganske land. Bogen findes på 72 biblioteker landet over. Der er lavet en udsendelse om bogen
(https://www.tvmidtvest.dk/ug…/ugens-gaest-carsten-oldengaard)
Jeg er ret stolt over bogen.
"Mentaltræning er vigtig og skal være tilgængelig for alle"